2018: Video (& Powtoon) EVERYWHERE!
Read Time:
4
minutes
If you're anything like me, your head is spinning, because 2018 was an absolute whirlwind. Just to get an idea how fast things are moving these days, and how quickly we forget about major events…
Remember that South Korea hosted the winter olympics… THIS YEAR.
Feels like a decade ago, but it was just February.
With so much activity overflowing our newsfeeds, I wanted to take a moment to track the growth of video (and Powtoon) this year!
Video Growth in 2018
There's no denying that online video is growing. It's not just on every device, but it has a deep impact on our behavior. For instance, 84% of consumers surveyed say watching a brand's video convinced them to buy a product or service.
It's no wonder that here at Powtoon, we saw our tribe demanding (and creating) more and more videos for advertising and marketing use-cases. That's why we created Powtoon Agency, a solution optimized for marketing and content agencies, or freelance creators who can use Powtoon to easily produce numerous professional-looking videos, at a faster pace for their clients.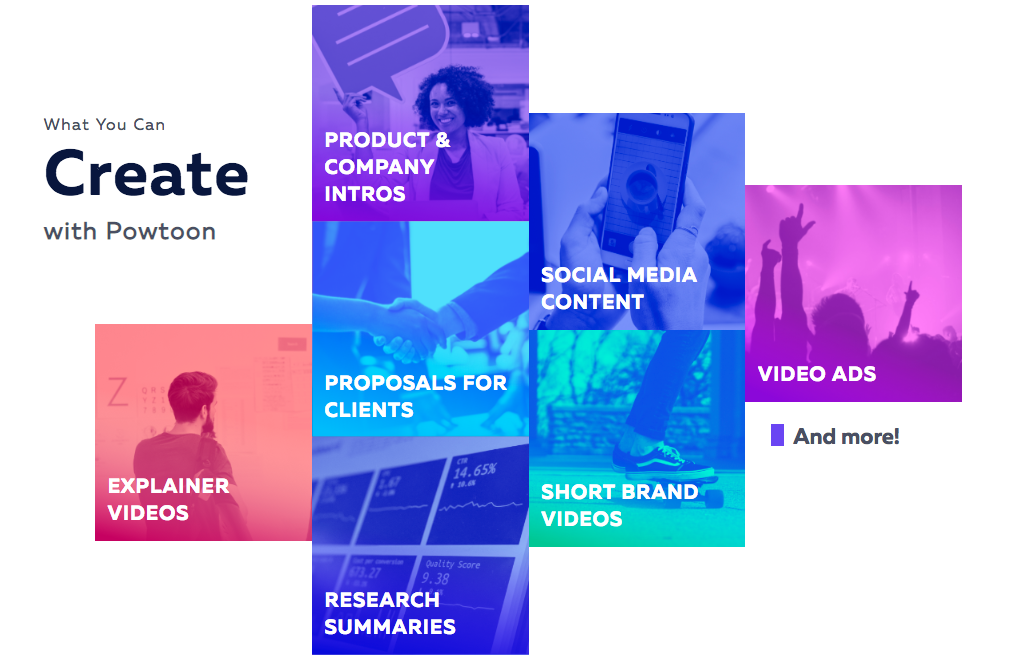 The solution offers special features like 3rd-party resell rights, upload fonts, our new Adobe Photoshop CC extension for Powtoon, collaboration, and advanced animation settings (coming soon!).
Enterprises Changing How They Communicate
It was hard to miss Jeff Bezos's striking stance on the state of the corporate meeting. Earlier this year, he banned slide-deck presentations from all Amazon executive meetings, to be replaced by a multi-page written narrative document, which is expected to be read in silence for the first 30 minutes of any meeting…

Are you asleep yet?


OK, points to Jeff for realizing that in 2018, the same old boring meeting just won't do. But points off for taking a giant step backward. Getting and keeping employees' attention is all about engaging them, not sending them to the corner to read. We knew this trend was taking off when we noticed that over 96% of Fortune 500 companies had at least one Powtoon account.
This is no surprise! Video is the most engaging, most effective way to share information, and that's as true for a marketer as it is for an HR director. Enterprise professionals need to get their message across to ensure employee safety and compliance, and to share information vital to the functioning of their organization.

As more people started creating videos for internal communications at large organizations to fight the boredom and time-wasting that have become the norm, they began to ask for a whole new set of capabilities, like team management and shared media drives. But it wasn't just tools of convenience that the enterprise set was after.
Another major trend it was hard to miss in 2018 was a continuing concern around keeping data secure (#GDPR+). Whether you run a social media platform, and happen to be called to Congress to answer uncomfortable questions, or you just want to keep your company's data from prying eyes, the standard, off-the-shelf software setup simply doesn't cut it. Professionals like this want all the awesomeness cloud software has to offer, with the security guarantees that only an enterprise-level product can provide.
Add those capabilities to priority support, dedicated company logins, a secure cloud, advanced team management and media sharing, and you've got yourself Powtoon Enterprise, which we launched in May of 2018 to meet the growing needs of large companies and institutions that want to see security compliance as a major feature of their creative tools.
In 2018, It Was All About the Brand
In the age of Instagram, creating a visual vocabulary for your brand is more important than ever. And it's also a great time to be sure your brand fits your company! In the last few years, Powtoon has evolved from a focus on animated videos and presentations to now offering live-action video capabilities and heaps of royalty-free stock images and videos right within the studio.
Powtoonists are making more sophisticated videos for more settings and situations. With all the changes over the past year, we reexamined our brand, and took an awesome 7-step journey for forging a new look that would carry us into the next phase of online video creation and awesomeness.
If you want to know how we did it, (and get a few tips for your brand!), check out this awesome chronicle of our rebrand process, written by none other than Powtoon's VP of Creative and Head of UI/UX, Peter Berezhansky.
2019 & Beyond…
That's just a tiny slice of 2018, and the year ahead has so much more in store for all of us. Did you create videos for ads or marketing this year? Did you use Powtoon Enterprise to securely store and share your videos across your teams? Did you use Powtoon with another online tool?
If you answered yes to any of these questions, what was your biggest success? Tell me all about it and any other 2018 wrap-up awesomeness in the comments below!




The following two tabs change content below.
Nick Liebman
Nick is Powtoon's Head Creator for Video & Learning. He joined Powtoon as head copywriter in 2016, after his previous blog was voted one of the top 8 CRO blogs on the internet by Digital Marketer. He continues to churn out awesomeness for all Powtoon users via blog posts, tutorials, webinars, videos, and more. Before working in technology full-time, Nick honed his skills in the unlikely world of music and non-profit work. He holds a B.A. in Music from Grinnell College and an M.M. in Music Composition from Butler University, and has performed his and others' music all over the world.
Latest posts by Nick Liebman (see all)