Finally, Now You Can Download Your PowToon in PDF
Let me point out the obvious when it comes to giving​ handouts in a meeting:
Handing out ugly printouts makes you look unprofessional.
Imagine you're giving a "1st Quarter Sales Report" to your team. And for printouts you hand them each a gorgeous PowToon, printed out hot and fresh. That would be AWESOME – because you're now seen by your team as a PRO, who's on the cutting edge with gorgeous PowToon Prints.
Export Your PowToon as a PDF Now
Which is why we're uber-pumped to announce the release of PowToon in PDF. Go watch this short video I made how easy it is to make one (in just 20 minutes).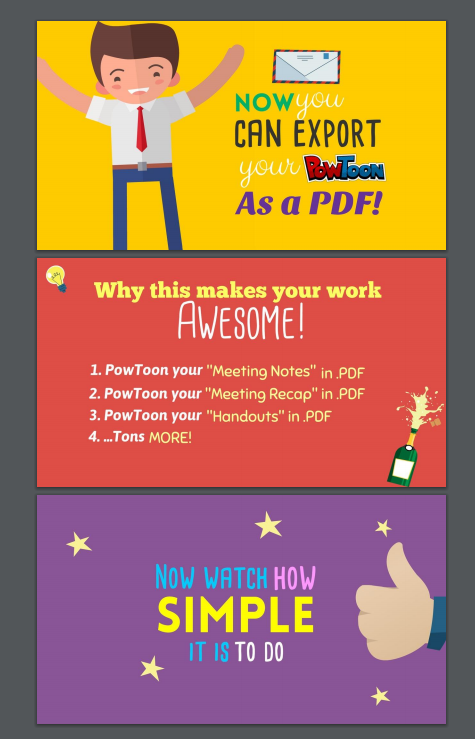 Let me know in the comments below:
How do YOU plan on using PowToon in PDF?
Stay Awesome,
Ari
The following two tabs change content below.
Ari Sherbill
VP Business Development @Powtoon. Ari's known as the "High Energy Guy" who currently advises Fortune 500 companies, Hollywood Studios and over 5,000 executives and business owners every month how to increase their leads, engagement and sales with Powtoon. He's spoken on stage with MGM, the Sands Hotel, 3M and Oracle. NASA referred to his strategies as "fresh and intriguing". Learn how to grow your sales and impact by following me on twitter: @AriSherbill
Latest posts by Ari Sherbill (see all)