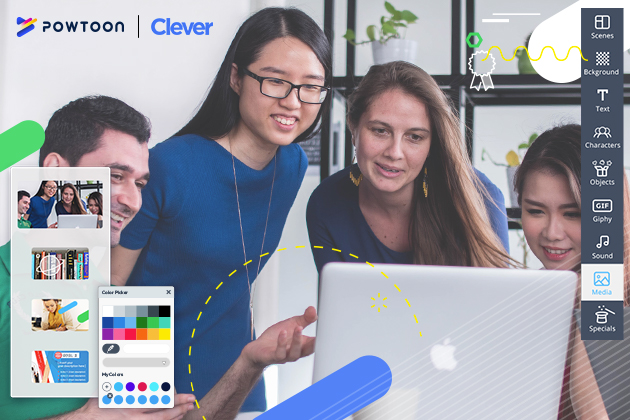 Powtoon Joins Clever to Bring Video Creation to the Classroom
Read Time:
2
minutes
We've been plotting this all summer long! We're so excited to finally tell you all: Powtoon is proudly partnering with Clever this year!
For those of you who may be less familiar with Clever, it's an incredible platform for educators to digitally transform their classrooms. That means Clever creates a synced and secure way for school districts to manage the online learning tools they love and trust. And now, Powtoon has joined the fun!
Why Clever?
Before we get into the details of our new partnership, it's important to talk about why we're partnering with Clever.
First of all, educators, administrators, professors, and students of all ages who use Powtoon are our absolute favorite people on earth. It's from the education world that we hear about new and creative ways to use Powtoon in the classroom. And it's also where we see student imaginations ignite with passion and awesomeness!
As you can imagine, we needed a partner who felt as passionately for real-life educators and students as we do. Clever fits that bill perfectly. In fact, 38% of their team is made up of former educators. And Clever is trusted by 90% of the top school districts in the U.S.
But it's not just their commitment to education that made us fall in love with Clever — it's how they put that passion into action: with cutting edge technology that makes it easier for teachers and students to access the right tools at the right time, without all the muss and fuss of battling your budget or getting a new solution approved by your district.
That means that by providing "the 'Amazon Prime' of educational web apps and services," Clever has connected with students in districts across the country. In fact, over three million students learn with Clever every day.
A personal connection to education, plus a fierce commitment to technology that works, divided by 3.1 million students equals an EDU partnership made in heaven.
Now that we know why we partnered with Clever, let's explore how this partnership works.
How It Works
Any teacher in a district that's lucky enough to use Clever can now unlock our Classroom plan for a 21-day free trial of Powtoon bliss! The plan includes the following goodies:
Automatically sync all students registered to a teacher's Clever classroom into relevant Powtoon classrooms
Access to all Powtoon assets, including characters, photos, videos, templates, objects, music, and more!
Easy sign in with Clever SSO for teachers and students
Why It's Awesome
If you're an educator and a Clever user, this is the plan you've been dreaming about! Give you and your students the Back to School gift of becoming professional video makers, public speakers, creative thinkers, and inspirations! Engage the three styles of learning — visual, audial, and kinesthetic — with Powtoon and Clever!
This special partnership also connects Powtoon to the rest of the technology suite you use with your students. So combining the power of Powtoon videos and presentations with any other app in your Clever Portal is seamless.
How to Get Started
To start your Powtoon EDU trial with Clever, visit their App Gallery today! (Or, if you're not a Clever user, check out Powtoon's EDU plans).
We can't wait to see what you brilliantly Clever teachers and students will create with Powtoon!
Happy Back to School, and stay awesome!
The following two tabs change content below.
Nick Liebman
Nick is Powtoon's Head Creator for Video & Learning. He joined Powtoon as head copywriter in 2016, after his previous blog was voted one of the top 8 CRO blogs on the internet by Digital Marketer. He continues to churn out awesomeness for all Powtoon users via blog posts, tutorials, webinars, videos, and more. Before working in technology full-time, Nick honed his skills in the unlikely world of music and non-profit work. He holds a B.A. in Music from Grinnell College and an M.M. in Music Composition from Butler University, and has performed his and others' music all over the world.
Latest posts by Nick Liebman (see all)