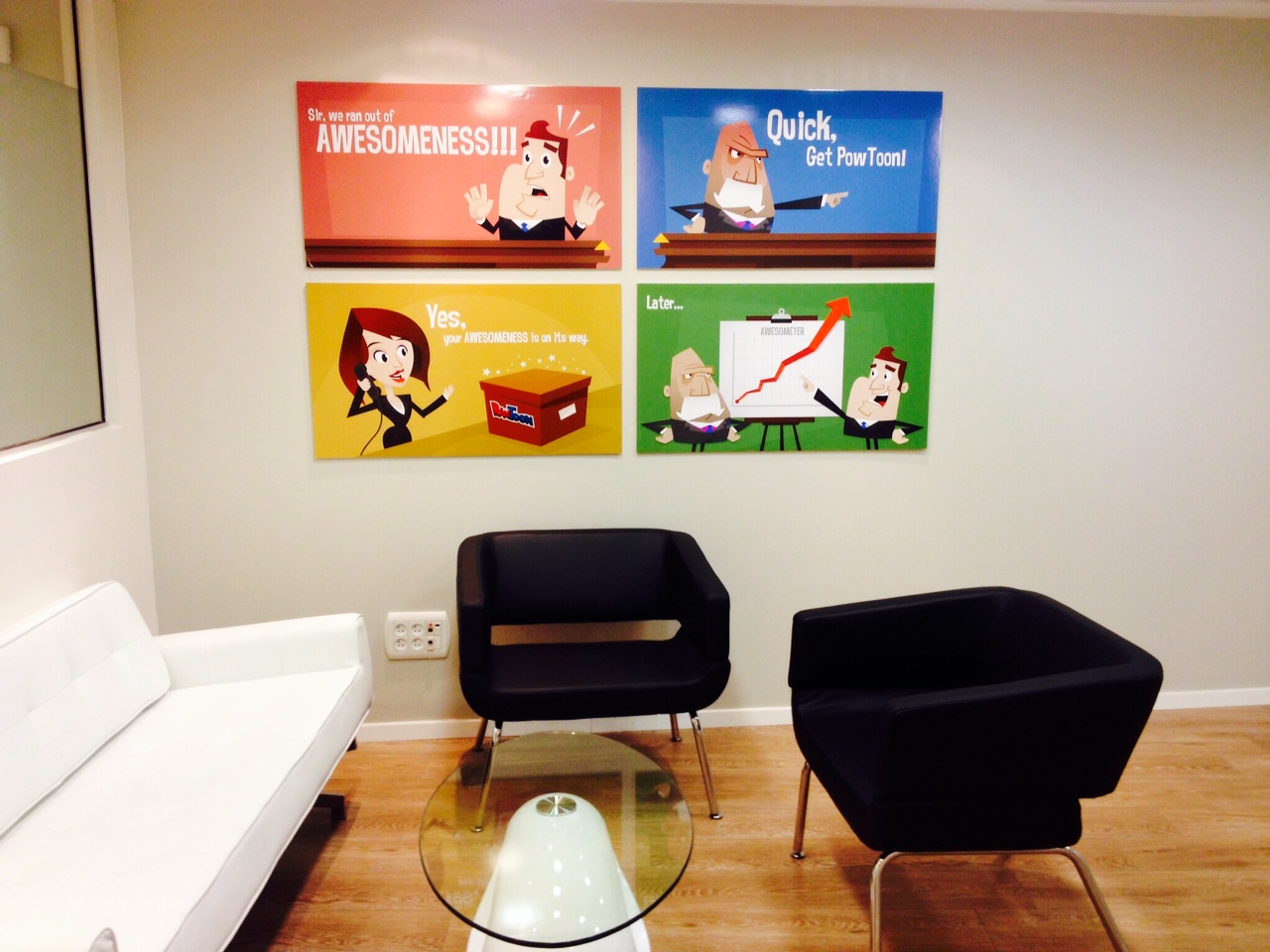 Who Says You Can't Have Fun At Work?
Read Time:
3
minutes
The goings on at Powtoon!
Don't you just hate when you find a product you love but have no idea about the company behind it? Well we don't want that to be the case here! We want you to know just who you are dealing with, and keep you up to date on the fun, behind the scenes stuff that goes on at Powtoon​ ;-). So far, Powtoon has had a January ​ filled to the brim with fun, excitement, and celebrations! For starters we recently moved to a brand new, GORGEOUS office, complete with a phenomenally (and appropriately) decorated sitting area,
3 office rooms, a conference room, a marketing room (my favorite personally but I'm a bit biased), a design room, a support room, an engineer room, a kitchen, and two bathrooms! WHOA! What a place to work, let me tell you!
On top of the AWESOME new office space, we have also celebrated 3 birthdays since moving in to our new place; lots of January babies here! Jordana, our Community/Social Media Manager Extraordinaire celebrated her birthday on January 6th, Elad, one of our crazy awesome developers celebrated his birthday one day later on January 7th, and our outrageously talented CTO, Sven, celebrated his birthday a few weeks later on January 19th! This was his 3rd birthday celebration with Powtoon, and let me tell you this… If there is one thing we do well here at Powtoon, it is celebrating! If there is any occasion worthy of a celebration we are right there with food, drinks, desserts, and more! You can't work in a field as cool as animation software and not know how to have a little fun!
On top of all of that, we have learned to take the creativity we use when designing, implementing, and marketing Powtoon, and apply it to everyday things… like taking breaks for instance. Our fearless COO, Daniel, couldn't find a quiet place to take a break one day. So what did he do? He made his own quiet space! It was quite a shock coming around the corner to find him there, but we all got a good laugh out of it when we did! Yes, you saw correctly. That is Daniel in the cupboard!
Well that's all of the juicy office news for now! Stay tuned for more great posts from within the Powtoon walls, and let us know what you think! Your comments are ALWAYS welcome!
The following two tabs change content below.
Powtoon's Social Media/Online Marketing Manager extraordinaire who loves to provide the Powtoon Community with amazing, fun, engaging, and informative content!
Latest posts by Jordana Pepper (see all)