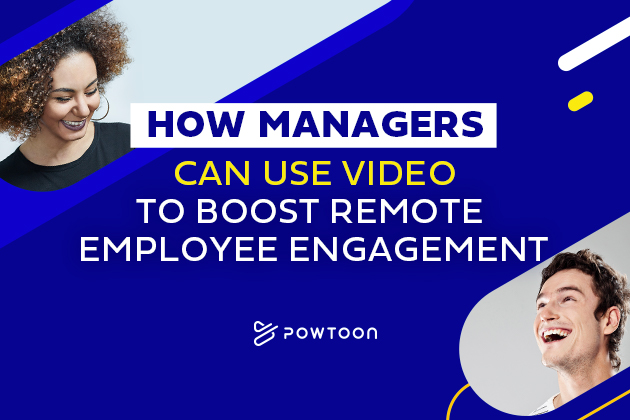 How Managers Can Use Video to Boost Remote Employee Engagement
Read Time:
4
minutes
As a manager right now, the challenge with communication starts with the sheer amount of noise. Phone calls, Zoom, Slack messages, emails, text — the cost of communicating has our ears buzzing. And it isn't only within your team, but from different departments around the clock.
The orchestra of buzzing demands for a concise and engaging way to communicate both with your team and across your organization. You need a strategy to turn the current mess of miscommunication into something crystal clear. This includes creating task alignment, summing up online meetings, and continuous training and upskilling.
Video calls play a part in allowing your team to see each other and connect, but they can't solve all your challenges. You need to be making the transition from video calls to video creation for remote employee engagement.
By creating engaging videos with your team, you can easily explain, inform, and inspire your business to action. Even in the times when people feel isolated and stuck, video and visual communication has the power to move your talent to rise above.
My LinkedIn post addressing remote managers on the topic
Below are 7 ways that remote managers are using video creation to clear the noise around them and foster remote employee engagement:
Weekly Updates
One of the toughest parts of your week comes right at the beginning, with your weekly updates meeting. Working remotely, it's even more difficult to engage distracted employees during this sync. Make your updates crisp and easy for your colleagues to understand and take action.
Here are some visual communication ideas to help keep Weekly Updates organized:
Use a video to open your meeting with last week's wins or how projects performed.
Bring information top-down and loop in team members on a new piece of technology in a way that is visually engaging.
Wrap up with a clip that maps out this week's goals, priories, and assignment distribution.
Data & Knowledge Sharing
As a manager, data is the backbone of your strategy. Across communication channels, people are sharing stats left and right, but there's no way to see them all at once. When presenting data remotely, employees can easily overlook these out-of-context numbers. You can change that.
Here are some visual communication ideas to share data and knowledge:
Make an intriguing video that organizes all the data recently collected to show your team.
If someone on your team finished up a research project, have them share a research summary video with their key insights.
Present a video encouraging team members to share things they've learned work for them to be efficient at home. It can create a great sense of being connected and learning!
Online Meeting Recaps
Virtual meetings with your team, individual team members, and colleagues across departments can hold a lot of information. After any of these calls, coworkers can feel confused about what to do next.
Here are some visual communication ideas to recap an online meeting:
Help your coworkers in other departments by sending them a video with your meeting's recap and what your teams will respectively do next.
Offer a team member a quick video of post-meeting priorities so they don't waste valuable time.
Training & Upskilling
As a manager, it's never been a more important time to help train and upskill your employees. Use this time as your chance to offer professional development while working remotely.
Here are some visual communication ideas to train and upskill your team members:
Make them a video invitation about their upcoming training session, highlighting what they'll be learning and how excited you are to see them grow.
Send a soft skills training video, and challenge them to implement one skill every day.
Company Announcements & Updates
Turn company policy emails into captivating videos. With the new adjustment to remote work, now is not the time to bury them with emails, but to delight them with engaging, memorable content.
Here are some visual communication ideas for Company Announcements:
Flip traditionally dry guidelines and company policies into engaging videos.
Commit to sending 2 videos per week with all of the company-related updates delivered as animations. Your team will actually look forward to these since they'll be visual, situational, and relatable!
Wellness & Remote Working Tips
This might be the first time anyone on your team has worked remotely, and that could be isolating. Be sure to make your employees know that as a manager, you put their wellbeing first.
Here are some visual communication ideas to help your team be mindful:
Send your team members a quick video of how to set up a productive and calming workspace.
Encourage them with a video to take time to walk around, exercise, and meditate.
Employee Recognition & Positive Company Culture
Without being around the office, employees can feel both literally and figurative unseen. As a manager, it's important now more than ever to show employee recognition for all their hard work.
Zooming out, try to consider how your company's culture is adapting to working remotely. This is your chance to set an example and establish employee recognition as a cornerstone of your positive remote culture.
Here are some visual communication ideas to show employee recognition:
Create a video to show appreciation for someone who went above and beyond.
Take it to a macro level and send a video to the whole department or even company, telling them how much you value your team now more than ever.
We're Here For You!
Powtoon's professionally designed video templates make it easy for managers to engage remote workers and keep positive vibes high! While you may be wary of adding more tools to your remote work stack, we promise that making videos with Powtoon is as simple as making the slide deck presentations you're already making (but aren't great at engaging).
Got ideas of your own of how to use videos for remote employee engagement? We're all ears! Let us know in the comments below. If there's a video template that you need which you don't see in our template gallery, also let us know! Your feedback is always valued and appreciated. Looking forward to hearing your thoughts.
Some link
The following two tabs change content below.
Itzik Yarkoni is the VP Marketing of Powtoon. With 10+ years of marketing experience up his sleeve, Itzik has built B2B and B2C strategies for hi-tech companies and startups. Itzik's a master of data and creativity alike, giving him the unique ability to launch innovative projects and partnership that scale. A two-time startup founder, Itzik's also author of Pass the Chutzpah Please: An Israeli Outlook on Bold Business and Branding.
Latest posts by Itzik Yarkoni (see all)