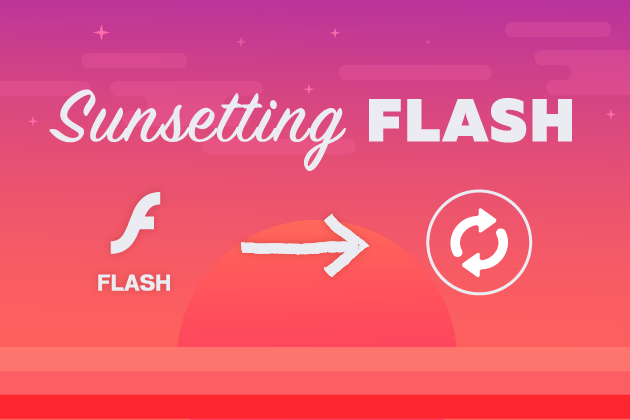 The End of an Era: Sunsetting Powtoon's FLASH Studio
If you have classic Powtoons, created in our FLASH editor before the Fall of 2017, congratulations! You are an OG Powtoonist!
The good news? You have tons of experience creating awesome videos for marketing, training, internal comms, education and more.
The bad news? The classic editor will be closing down forever on March 31, 2019. Watch the video at the end of this post for information about exactly what to do to convert your FLASH Powtoons to HTML5. But first, a little background…
WHY IS THE CLASSIC STUDIO CLOSING?

The original Powtoon platform was built on a technology called FLASH. FLASH allowed you to create animation that could be viewed on a website. Since then, HTML code, the code that most websites are created in, released a new version that was able to directly support video on a website.
This began a chain of events that ultimately led Adobe, the makers of FLASH, to announce the sunsetting of this technology. In short order, web browsers across the industry began to turn off FLASH as a default setting. Anyone still using FLASH technology was certainly in big trouble.

That's why we rebuilt our technology from the ground up in a brand new programing language. While this took considerable time and investment, it opened up all the possibilities you've seen Powtoon make available since we launched the new software, like live-action video capabilities, faster loading times, higher-quality videos, and so much more.
If you're new to Powtoon since then, you never had access to the classic studio, and you have no idea what I'm talking about. But if you are from the before time, you've had full access to your FLASH Powtoons under the Classic Studio tab on your My Powtoons page.
But starting on March 31, 2019, the FLASH studio will close its doors forever.
I STILL HAVE CLASSIC FLASH POWTOONS!!! WHAT DO I DO?
Don't worry! You can convert your favorite FLASH Powtoons to HTML5 in just a click. For detailed instructions, check out this article in our Help Center. And enjoy this video we created to help guide you through the process.
Even though we're saying goodbye to our Classic Flash Studio, soon we'll be saying hello to a ton of new, exciting features… so stay tuned!'
The following two tabs change content below.
Nick Liebman
Nick is Powtoon's Head of Content Marketing. His last blog was voted one of the top 8 CRO blogs on the internet, tackling the latest in customer experience and online business. Nick honed his skills in the unlikely world of music and non-profit work. He holds a B.A. in Music from Grinnell College and an M.M. in Music Composition from Butler University, and has performed his and others' music all over the world.
Latest posts by Nick Liebman (see all)