The 6 Most Essential Soft Skills for Your Organization
Read Time:
6
minutes
Trying to sort out the most essential soft skills for your company might seem overwhelming. It can be tough enough for your HR team to recruit and retain top talent. Not to mention plan those Hawaiian luau-themed happy hours and team-building retreats.
But soft skills — communication, interpersonal, group dynamic, or personal growth skills — cannot be neglected!!!
Not only has there been an increase in searches for the term, indicating growing interest from across the internet, but I hear directly from Powtoon users nearly every day about the importance of finding creative and engaging ways to train their colleagues in soft skills.

Ok, ok… let's focus, people. We know it's important to train your colleagues on soft skills. But your time is valuable, and you can't afford to waste time on training that doesn't help you meet your goals.
Never fear! We found the six most essential soft skills for your organization, and I can't wait to share them.
Here we go!
Soft Skill #1: Creativity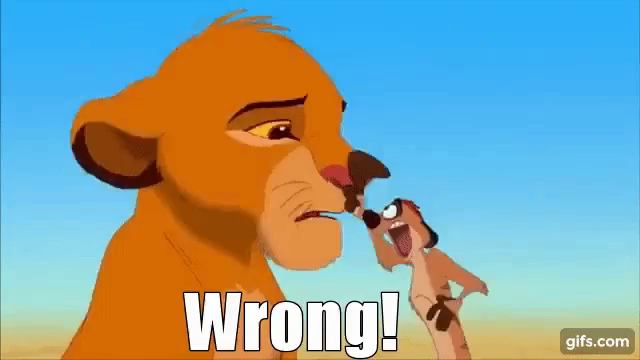 Creativity. You either have it or you don't, right?
Wrong!
Creativity is like any other skill. It's a way of thinking that allows you to take risks and combine ideas to synthesize something new. And training your employees to bring a creative mindset to their lives (and work) will unlock confidence and ingenuity you never knew they had.
Here are a couple of simple ways to help enhance creative thinking on your team:
Take time to do some creative writing.
Find writing prompts that will stretch your teams' imaginations. This does not need to be directly related to your core work. In fact, it's much better if it isn't!
Yes, And…
Cultivating a culture of creative thinking is all about building on ideas. In the world of improv comedy, the "Yes, And…" response is a way to build on your coworkers' ideas without being overly negative or stifling the flow.
Think visually!
You never know when viewing things visually will help create a connection you didn't imagine before. If your team is stuck or needs to force a little creativity, think about drawing out the task at hand, and using visual concepts to move forward, instead of words alone.
Soft Skill #2: Leadership
Leaders come in all kinds of shapes and sizes! Too often though, people assume leaders are simply extroverts with a magical way to spin even the simple stuff into inspiration.
This stereotype pushes away many introverts (and even extroverts) who don't feel they "have what it takes" to take charge and lead. A huge missed opportunity!
Here are two types of leadership you can foster in just about anyone, and how to help your trainees realize that they have what it takes to make an impact.
Empathetic leadership
The first thing to note is that empathy is a muscle, and like all kinds of muscle you work on, it's best to start small. If you're training someone to take on a more empathetic form of leadership, the simplest thing leadership guru, Loren Margolis, suggests is to start small, with small-talk! Asking about the mementos on a team member's desk or what they did over the weekend can open up an empathic space.
Feedforward leadership
Why not try flipping feedback on its head – introducing feedforward! Let me explain. You can be the manager who comes and tells an employee what they've done wrong (what we tend to call "constructive criticism").
Alternatively, you can point out what they did right, or what brought them success. What were the building blocks that made it happen? Then draw up a plan together on how to replicate that behavior in the future.
Soft Skill #3: Teamwork
There's no "I" in "team." While this expression is pretty cliche to most of us, it's a fundamental way to think about teamwork, especially in organizations.
For a team to work effectively together, there needs to be equal parts speaking and listening amongst group members. Otherwise, you might be facing one of the following challenges:
Groupthink
Stemming from social psychology, when one person has the floor too much of the time, it can cause others (whether they honestly agree with the conch-holder or not) to simply nod along. Without diverse voices speaking up, you risk missing important ideas.
Lack of team identity
This works in two parts. On a macro-level, a team needs a strong sense of who they are in order to work together and meet goals. On a micro-scale, this sense of belonging to the whole is generated based on members speaking up and developing personal, unique roles in the group. Be sure to check in with your team about your collective identity and goals and how each of you adds that special something to help you get there.
Remote isolation
In the last five years alone, 44% more employees are now working remotely. When there isn't constant contact between remote members and those who sit together, it can create a sense of isolation that can hurt their contribution and effect communication with the whole team. Be mindful of those who work remotely and be sure to loop them in whenever possible.
So no matter if you're a soft skills trainer, team leader, or team member, be sure you're modeling a balance of listening and talking.
Soft Skill #4: Conflict Resolution
There are five different types of conflict resolution. Here's a simple way to think about them…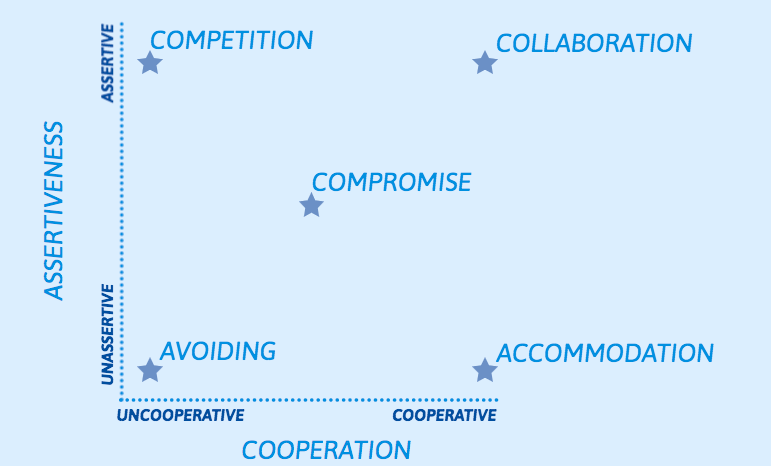 Maybe one of these has already got your name on it, but let's break these down.
Competition: (Assertive x Uncooperative) Seen as a classic form of conflict, this is the result of a lack of time or trust in the other. Not ideal.
Collaboration: (Assertive x Cooperative) This mode of conflict resolution offers long-term direction for organizational change. It also fosters employee satisfaction and trust between parties. In short, this one's a winner, but sometimes we don't feel we have time to do it.
Compromise: (Assertive x Cooperative) This mode of conflict resolution lives in no man's land. Similar to competition, it tends to come from a place of lack of time.
Avoiding: (Unassertive x Uncooperative) Solely a delaying tactic, this one isn't great to rely on. Use this only sparingly.
Accommodation: (Unassertive x Cooperative) Best to be used when you highly value building a relationship with the other party. Or when you realize they're in the right.
Soft Skill #5: Time Management
The secret to time management, which is also physical and emotional energy management, is setting up smart goals from the get-go. Not just smart goals, but SMART goals. This framework used often in executive coaching, including Specific, Measurable, Achievable, Relevant and Time-based goals.
No matter the ambitions of you or your team, be sure they are based on SMART goals so you can be sure to allot the right about of time to achieve them.
Soft Skill #6: Critical Thinking
In a world where information is always at our fingertips, or in our back pocket, it's never been more important to learn the soft skill of critical thinking.
I love this video from Brian Oshiro, a teacher extraordinaire, all about how we can be gain better critical thinking skills and instill them in the people we teach and lead. He breaks down the formula of higher critical thinking into three questions…
The What. This question can be as simple as "What are three soft skills needed in today's workplace?" Great question, and probably why you're reading this article. But how about if you asked a slightly more pointed question: Explain the three soft skills needed in today's workplace. This elevates the question because it requires not just a checklist but the details that enrich each of them.
The Why. This is the moment it gets personal. It's the moment you critically ask, "What gives?" More eloquently, you can ask, "Why are soft skills important to me to acquire now at work?" or "Why are soft skills relevant to today's employees?" These don't have cold, hard answers you can ask Siri. They force you to think.
The How. I like to think of these as the Debate Team questions. They force you to both back up your point, and be aware of the alternative answers someone else might have. In question form, this could be asked as, "How do you know that soft skills are important at work?" "How might others make the case that hard skills are a more important skill to obtain?" or "How can you work on your soft skills this week for greater professional development?" These questions are MASSIVE, but essential for critical thinking.
Soft Skills the Easy Way… With Video
So here's a How question for you: How can you better teach soft skills to your team to ensure it all sticks? The secret is, the most effective way to impart all the most essential soft skills to your team is to do it with video!
If you haven't signed up for Powtoon yet, CLICK HERE and start creating awesome soft skills training videos in minutes. Thinking critically about leading your team to make creative video greatness in no time and with tons of collaboration (see what I did there?)? Learn more about our Powtoon Business plans.
The following two tabs change content below.
Nick Liebman
Nick is Powtoon's Head Creator for Video & Learning. He joined Powtoon as head copywriter in 2016, after his previous blog was voted one of the top 8 CRO blogs on the internet by Digital Marketer. He continues to churn out awesomeness for all Powtoon users via blog posts, tutorials, webinars, videos, and more. Before working in technology full-time, Nick honed his skills in the unlikely world of music and non-profit work. He holds a B.A. in Music from Grinnell College and an M.M. in Music Composition from Butler University, and has performed his and others' music all over the world.
Latest posts by Nick Liebman (see all)