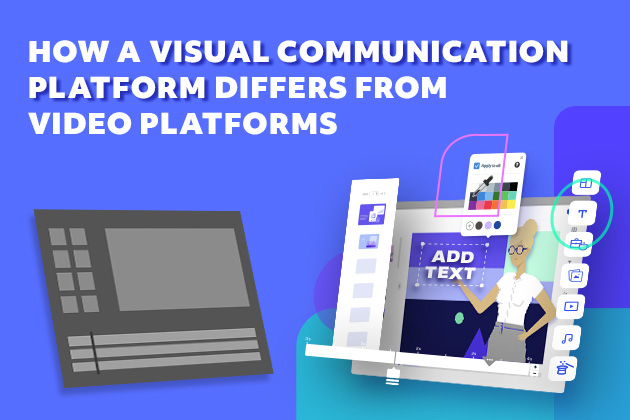 How a Visual Communication Platform Differs From Video Platforms
Read Time:
3
minutes
There are many ways to create video content. You can purchase software, download an app, or use web-based platforms. Many people choose this final option because web-based platforms are accessible from anywhere, are typically user-friendly, and always have access to the most up-to-date features. However, when evaluating different online options for creating professional videos, it's easy to conflate "video platform" with " visual communication platform " when in reality they are two very different things. Here's what you need to know to choose the tool that's right for you.
How Visual Communication Platforms are Different From Video Platforms
Difference #1
A video platform is a single-use tool. A visual communication platform meets multiple needs.
A video platform is built for one thing: video. A visual communication platform is a one-stop-shop for all your visual communication needs. Sure, you can create awesome videos. But, it's not just an online video maker; you can also make infographics, sales presentations, social media content, screen recordings, professional video ads, or internal comms – all using one platform. Every tool has a learning curve, and when you use a comprehensive visual communication platform for all your creative needs, you don't have to learn multiple tools or switch between programs when making multimedia projects. Plus, when you use one platform for all your content creation – be it high-quality videos, static images, or animation – you can make them visually consistent through the use of templates, fonts, color schemes, audio tracks, or objects to maintain brand consistency across all media channels.
Difference #2
A video platform has limited features for content creation. A visual communication platform has robust built-in features to create professional-quality videos.
At its most basic, a video platform will let you record and upload a video. It may have options to edit videos but that's not a guarantee. When you choose a visual communication platform over a simple video maker, you can be sure you'll have features to make your own videos, as well as create other visual content you need like presentations, videos for your social media platforms, gifs, memes, infographics, explainer videos, or animation. You'll also have broader options for editing so you can be sure your final product is polished and professional.
Difference #3
A video platform doesn't allow for collaboration. A visual communication platform is built for teams.
Most video platforms allow for a single user to create, edit, and upload videos. Visual communication platforms understand that visual content is often part of a larger strategy and that many projects need multiple eyes on them from creation to completion. By opting for a visual communication platform, you'll be able to send drafts to your collaborators for feedback or even have them make edits to the project using their own login. Advanced workspace features may even have shared media library capabilities, which is particularly helpful for companies who need to maintain creative and branding guidelines.
Make Your Own Videos With Powtoon
Powtoon is the one-stop-shop for all your visual communication needs! Create training videos, presentations, product videos, screen and webcam recordings, slideshows, infographics, images, and more using one feature-rich platform. Use professionally designed video templates to publish a video in minutes, or make your own videos from scratch while using Powtoon's stock photos and videos, a vast library of objects, a music library, and customizable cartoon characters to make your final product shine. Ready to give it a try?

The following two tabs change content below.
Hanna is Powtoon's Content Marketing Strategist. She joined Powtoon as a copywriter in 2019, after graduating from university with a specialized degree in marketing and business. She continues to inspire people to create incredible video content with blog posts, videos, guides, and more. Hanna's passions include reading, singing, and caring for animals (#proudvegan). Nothing makes her happier than waking up to her two black kitties who, contrary to popular belief, are good luck!
Latest posts by Hanna Abitbul (see all)