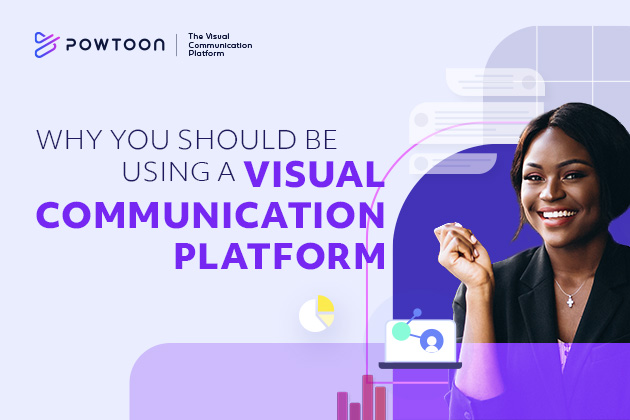 Why You Should Be Using a Visual Communication Platform
Read Time:
2
minutes
By now it's common knowledge that videos and imagery are effective messaging tools. But still, these tools are far underutilized. Whether you work for a company with billion-dollar revenues or freelance from home on the side, a visual communication platform is an essential tool to have in your business toolkit. Here's why.
Capture Your Audience
There's no communication more powerful than visual communication. Humans are visual creatures, and research continually affirms that visual tools outperform other modalities in attention capture, engagement, and information retention. Simply put, rock-solid visuals are an essential part of an effective messaging strategy.
But when we talk about messaging – think beyond traditional marketing and use the power of visual communication across all audiences. Use visuals to enhance the online classroom and keep remote students from tuning out. Re-engage attendees during the typical mid-afternoon slump of a professional development seminar. Send out company-wide executive updates without the need for a singular meeting time or (yet another) email that only gets a cursory glance before being relegated to the "deleted" folder. Having a visual communication platform at your fingertips allows you to quickly and easily convert potentially dry content into material that will get your message across to your viewer in a way that will make them tune in and engage. 
Create Consistent Messaging
Consistency matters. To your clients, to your customers, to your employees. Visual familiarity makes a difference, and if you're jumping between content creation platforms or just cobbling together content without common visuals, you're missing out on an opportunity to positively influence your audience with your branding. Use a visual communication platform to create videos and images with common colors, a consistent feel, or familiar visuals to create consistent, cohesive visual tools that will take your comms to the next level for all your audiences – both internal and external.
Communicate Across Channels
Maybe you realize a portion of your onboarding video would work well in a social media recruiting ad. Or the stats you shared in the company presentation would make a compelling marketing infographic. A visual communication platform makes it easy to produce (and re-use) content for use across multiple channels. Simply choose the ideal format for your targeted channel, and your video is ready to share in minutes. There's no need to waste time reinventing the wheel – just maximize the use of the high-quality content you've already created!
The Visual Communication Platform for All Your Needs
There are many visual communication tools on the market, but not all are created equal – so choose Powtoon for all your visual communication needs! Powtoon is used by businesses of all sizes, from standout startups to 96% of Fortune 500 companies, to create attention-grabbing visuals geared toward a variety of audiences. The professionally-designed templates combined with royalty-free stock images and videos set Powtoon's platform apart and give your final product a polished look, while the customization options will make sure the video has your unique feel. Make videos, infographics, animations, and whiteboard animations in minutes. Try Powtoon for free today!

The following two tabs change content below.
Shoshi Davis
Shoshi joined Powtoon as a Marketing Assistant. To read more of her stuff, you can find her content on Upwork and Business 2 Community talking all things inbound marketing for SaaS. After only 2 weeks at Powtoon, Shoshi was dubbed by the marketing team as having the superpower of "Unbridled Enthusiasm." So that was pretty cool.
Latest posts by Shoshi Davis (see all)