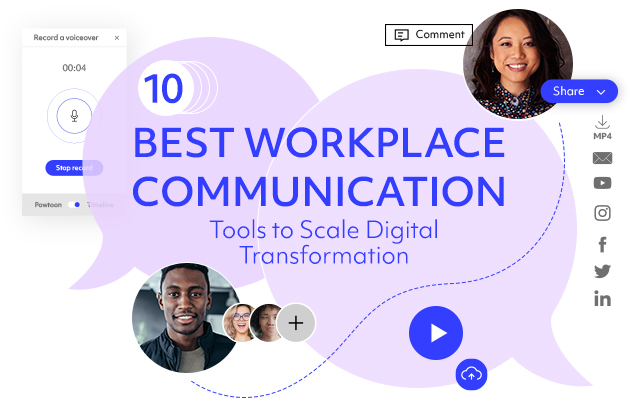 10 Best Workplace Communication Tools to Scale Digital Transformation
Read Time:
3
minutes
In digital transformation consulting, results matter – but so do first impressions. Clients will evaluate a consultant's ability to overhaul their company's digital transformation process based on many things, not the least of which is the consultant's proficiency with digital tools in their own practice. To gain the confidence of potential clients, use digital technologies that are sure to impress!
Lead By Example
As a digital transformation expert, don't just recommend digital tools to your clients – use them! This demonstrates your ability to innovate and gives your clients a taste of the end-user experience. Incorporating some of your favorite business applications into your practice will give your recommendations extra credibility, and make your work easier, too.
Workplace Communication Tools for Digital Transformation Consulting
Want to improve communication with your clients, your colleagues, and relevant stakeholders? Here are the workplace communication tools you'll need.
Messaging app: Collaborating with colleagues on a big client project? A messaging app offers a convenient and contemporary way to connect outside of the outdated (and often ignored) email inbox.
Screen capture technology: What's better than a detailed email or a vague verbal explanation of a tool's digital capability and usefulness? A visual demonstration, of course! Screen-capture technology allows you to quickly and easily demonstrate the use of a tool and show clients exactly how it can improve workflow or efficiency.
Secure sharing platform: You become privy to sensitive and proprietary information when helping companies develop scalable digital solutions to improve their business processes. Any platform you use to share documents, videos, or presentations needs to be secure so the confidentiality of the information is not compromised. This is particularly important when using web-based applications; be aware of security and sharing settings so viewers can't inadvertently stumble across content on a web search or internal users can't accidentally share with an unapproved party.
Digital collaboration tools: Presentations or projects often involve multiple collaborators. You need to be able to create a joint proposal with your colleagues, solicit feedback from your supervisor, and share the final product with your client. Ideally, you'll do this all on the same platform rather than emailing digital drafts back and forth. A web-based collaboration tool makes this possible!
Digital video creation software: Incorporating video helps facilitate clear communication with clients and colleagues – but this can be complicated and time-consuming without the right tech tools. Choose a digital video creation platform with user-friendly templates, easy customization, and branding options to create professional-quality videos. Embed video messages in internal emails to colleagues or use an animated explainer video to propose a new business process to clients. However you choose to use it, a video will get the message across far better than an email or verbal pitch.
Project management software: Scaling a company's digital transformation is complex and often involves coordinating multiple people, timelines, tasks, and budgets. Project management software helps with oversight and collaboration between teams and quickly gives accurate project updates to clients and other stakeholders.
Collaborative team software: This "digital office" combines a few of the previous tools under one roof. A team-focused platform often includes messaging functionality, video chat, virtual meeting rooms, task-scheduling capabilities, calendar access, and document or project collaboration all in one spot. Other tools may even integrate with your collaborative team software, such as your timekeeping program or video platform. Communicate with clients, collaborate with colleagues, and store all your assets in one easy-to-access online hub.
ERP software: With an ERP, you can better serve clients and optimize your internal business processes with real-time data and information transparency. You can respond to inquiries faster and more accurately and reduce time spent on ancillary activities.
CRM software: Unless you're a solo practitioner, clients will likely interact with your company at multiple touchpoints so having all relevant customer information available in one place is essential for doing business. CRM improves interdepartmental collaboration and ultimately elevates the customer experience. If it integrates with your ERP software, it's even better.
Time & expense tracking software: Are you working with other vendors on behalf of your clients? Do you incur business expenses from travel? Are you billing your consulting clients by the hour? A digital time & expense platform can help you keep track of billable hours, organize documentation for reimbursable expenses, and accurately invoice clients.
Scale Digital Transformation with Powtoon
Use Powtoon's visual communication platform throughout the customer life cycle. Create attention-grabbing proposals, communicate with clients, share information with stakeholders, solicit feedback, collaborate with colleagues, and produce memorable wrap-ups at each project's conclusion. Plus, you can streamline your business processes by creating informative or instructional videos and repurposing them for use with multiple clients! Your clients may be so impressed with your innovative professional comms that they switch to the platform themselves. (Trust us, it's happened before). Sign up for free and see how Powtoon can facilitate your company's digital transformation!
The following two tabs change content below.
Hanna is Powtoon's Content Marketing Strategist. She joined Powtoon as a copywriter in 2019, after graduating from university with a specialized degree in marketing and business. She continues to inspire people to create incredible video content with blog posts, videos, guides, and more. Hanna's passions include reading, singing, and caring for animals (#proudvegan). Nothing makes her happier than waking up to her two black kitties who, contrary to popular belief, are good luck!
Latest posts by Hanna Abitbul (see all)