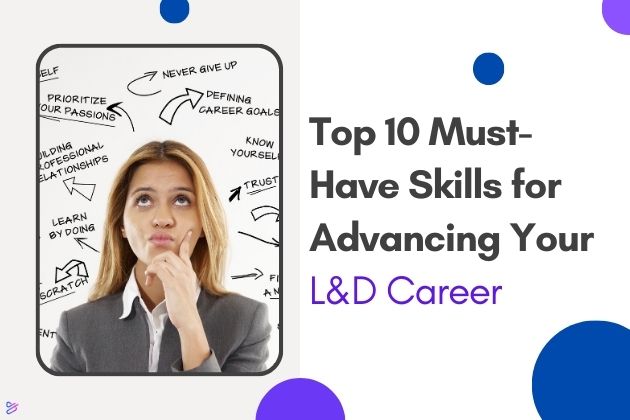 10 Must-Have Skills for Advancing Your L&D Career
Read Time:
4
minutes
Any qualified learning and development specialist knows they need to continue developing new skills to ensure they stand out among the competition when applying for jobs or growing their career. They also likely know that the skills employers look for in L&D specialists can change over time.
Currently, the top skills of a learning and development specialist are:
Adaptability
The era of remote work that the Covid-19 pandemic ushered in appears to be here to stay, at least to a degree. Such unanticipated developments serve as a reminder that both companies and their various high-level employees need to be able to adapt to sudden changes.
One of the top skills of a learning and development specialist now is the ability to adjust how they approach their work when necessary. Helping employees grow and learn remotely is likely very different from helping them grow in an office environment.
Communication Skills
Strong communication skills have always been important for L&D specialists. However, with employees working remotely, it's more vital than ever for those in learning and development departments to be able to communicate effectively both in-person and through digital tools.
Project Management
Project management has long been one of the top skills of a learning and development specialist. That hasn't changed.
Not sure how to demonstrate to a potential employer that you have this skill? Consider earning a certification in project management.
Collaboration
Except in very small companies, it's uncommon for learning and development specialists to work entirely by themselves. Instead, they may collaborate with others to develop training programs and materials that best serve the needs of both employees and employers.
Consider this when drafting a new resume or interviewing for a position. You may improve your chances of getting hired if you can cite instances in which you effectively collaborated with others on major projects.
Teaching Skills
Lists of the top skills of a learning and development specialist sometimes fail to include this skill simply because it's so obvious! Naturally, someone involved in training employees and helping them develop new knowledge should be an effective teacher.
Even if they might not be the ones to run every training session, an L&D professional is likely going to be involved in developing training content. Therefore, they need to possess an understanding of how people learn.
Innovative Thinking
The training and development content that might have served a company in the past won't necessarily always deliver the same value. Because of this, it's helpful for learning and development specialists to have practical experience developing innovative solutions to problems.
That spirit of innovation should inform their work when considering new ways to improve a company's approach to learning and development. If a company trains its employees in ways that are unique and innovative when compared to those of other companies in the same industry, said the company will likely enjoy a significant competitive advantage.
Like collaboration, this is one of the top skills for a learning and development specialist that you can show you possess by referring to past experiences. Try to think of instances from your career when you applied original thinking to address a task in an innovative manner and highlight those examples when interviewing for a position or updating your resume.
Scheduling and Implementation
Don't overlook the basics when determining what types of skills you need to cultivate and embody as an L&D specialist! Developing strong training and learning content isn't enough. You also need to implement your training plans effectively, and you need to schedule training sessions so that they don't interfere with your employer's day-to-day operations.
Research Skills
The ability to conduct thorough research may be among the top skills of a learning and development specialist in certain industries. For example, perhaps you work in an industry where training sessions often serve to ensure employees understand and comply with applicable regulations.
If so, you might need to be able to effectively research changes to said regulations while also researching the latest developments in effective training and coaching methods.
Strategic Thinking
The various pieces of educational and training content that an L&D specialist develops don't exist in a vacuum. Often, they build on one another.
Ideally, individual pieces of training and educational content build on one another in such a way that they help a company strive toward its long-term goals. Understanding what these goals are and how to organize learning and development content accordingly may require strategic thinking.
Video Production
Initially, you might assume this skill has little to do with succeeding as an L&D specialist. However, when you consider what research says about the role of video in learning, you may appreciate why it's becoming increasingly common for companies to hire L&D specialists who can develop video-based learning content for their workforces.
A review of several studies indicates that video is a powerful learning tool in the classroom because it's engaging, boosts retention, and can allow teachers to explain challenging concepts visually. Thus, video can also be used as a tool for training employees of a company.
A training video may even be more effective than a live training session in some instances. This is because a video offers the same quality of training to everyone who views it, while those who participate in different training sessions may have different experiences. Additionally, an employee could theoretically access a training video at any time when they need to refresh their knowledge.
Top Skills of a Learning and Development Specialist to Keep in Mind
Thriving as an L&D specialist requires constant growth. Luckily, someone whose job involves cultivating new skills in others likely understands that cultivating new skills is also something they can achieve. If you're an L&D professional, these are the skills you should focus on developing right now.
Use Powtoon to Easily Develop L&D Video Content
Using the right tools may be at least as important as having the right skills when you work in learning and development. For instance, with Powtoon's video maker and animation maker, you can easily create educational video content for your team, even if you have limited video production experience and a small video production budget. Learn more by signing up today!

The following two tabs change content below.
Hanna is Powtoon's Content Marketing Strategist. She joined Powtoon as a copywriter in 2019, after graduating from university with a specialized degree in marketing and business. She continues to inspire people to create incredible video content with blog posts, videos, guides, and more. Hanna's passions include reading, singing, and caring for animals (#proudvegan). Nothing makes her happier than waking up to her two black kitties who, contrary to popular belief, are good luck!
Latest posts by Hanna Abitbul (see all)