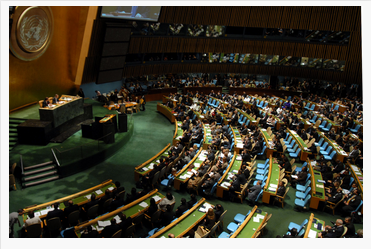 UNESCO Declares Powtoon a "World Heritage Site"
Read Time:
2
minutes
In its most bold move yet, the un General assembly approved today UNESCO's Request to grant the "world​ heritage​ site" to a website. ​ From this day on​ www.powtoon.com shall be eternally preserved for the good of all mankind.
The​ initiative​ came from the tiny nation​ island​ of Mambu-Atu which has the​ highest​ number of Powtoon users per capita. ​ "I am an avid Powtoonist and wanted to make sure that all the Powtoons I (and my citizens) had created stay forever available for all to enjoy" said the Mambu-Atu​ president via email.
After Unesco decided to recognize online presence as a form of real-estate,​ Powtoon​ was able to easily met the​ selection​ criteria:
to represent a masterpiece of human creative genius;
to exhibit an important interchange of human values;
to bear a unique or at least exceptional testimony to a cultural tradition or to a civilization;
The Unesco vote was unanimous – a rare​ occurrence. ​ The Iranian president seemed​ particularly​ thrilled with the outcome.
Dr. Indigo, Powtoon's Chief​ Scientist​ published an unofficial response: "We are honored to have been selected, this is clearly a great tribute to our website and Powtoon's mission. ​ We will continue to welcome and serve people from all over the world. ​ The timing is perfect: April 1st is already an internationally celebrated day, now there is even more reason to celebrate".
Made you smile? Happy Fools Day!
The following two tabs change content below.
Powtoon's Social Media/Online Marketing Manager extraordinaire who loves to provide the Powtoon Community with amazing, fun, engaging, and informative content!
Latest posts by Jordana Pepper (see all)