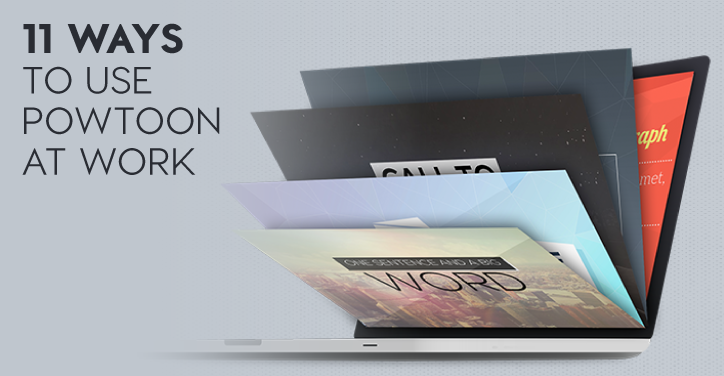 11 ways to use Powtoon at work
Read Time:
4
minutes
Do you know that icy cold chill running down your back in anticipation of a really important meeting? I was terrified of facing another room full of executives staring at their phones, pretending to be interested in my pitch. But this time it was going to be different!
By the time it was over, I had everyone's eyes glued to me…and all I used was just ONE simple trick'. Because today, the most valuable resource is no longer oil…or money…or even gold. Today, the most valuable resource is ATTENTION. Think about it….
The only way you can grow your client and customer base – is by first getting their attention. And the only way to grow your sales – is by holding someone's attention in such a way where they're inspired to buy your product or service. The only question is…how?
Why We Created Powtoon For You
As I mentioned earlier, I've sat in too many meetings where people were not paying attention at all. You've been there too, am I right? It's as if typical presentations have become some kind of a sleeping pill. And we won't stand for it anymore.
That's why we created Powtoon for you. Seeing how painful it was for business owners and executives, we formed a group of renegade scientists to find an antidote to this epidemic of sleeping audiences. We needed to create something where with a few clicks of a button, suddenly your audience couldn't keep their eyes off your presentation or video. Which is exactly what I used in my meeting. I turned those typical looks of dazed apathy into excited curiosity…just by using Powtoon.
Below is the one we made – plus I'm sharing 10 more case studies how our inspired tribe used Powtoon for their awesome work.
1. A Better 'Pitch'
This is the Powtoon we made for the meeting I mentioned earlier. Using Powtoon is the future of a'pitch' because it leverages 3 persuasive elements simultaneously: visual, audio and dynamic movement.
2. Online Ads
Craig the broker made this Powtoon for a more effective video ad for his real estate business. Notice how he used Powtoon to illustrate a powerful metaphor to overcome his audience's objection to hiring a real estate broker. By leveraging powerful visuals, his audience associates the need of a broker in the same way they'd need an attorney.
3. Homepage Video
Our friends at Stafflink created a powerful video that sits right at the top of their homepage. The video leverages characters, music and dynamic movement to tell a story that powerfully communicates the need companies have for their services.
4. Crowdfunding
Bill Rogers, Executive Director of the Coruway Film Institute​ added characters and dynamic text from Powtoon to make his direct-to-camera crowdfunding video way more engaging. Genius Bill!
5. Explainer Video
99dollarsocial made a funny, engaging and absolutely direct Powtoon to explain and offer their service. Notice how they leveraged the props inside of Powtoon to emphasize the pain points of their target audience (iPhone, clock, computer, graph, desk, etc.)
6. Product Overview
Cabenet Accounting created an engaging video that walks a user through their product. By leveraging dynamic text, characters and a soundtrack – they created something very engaging for their audience!
7. Newsletter Video
Look how Paulo Coelho's beautiful words come alive with some animation, dynamic text and background music. Imagine how you can use Powtoon to awesome-ize your content (like a newsletter) like best-selling author Paulo Coelho.
8. Blog Sign-Up
Digital Marketer, among the top leaders in online marketing today, used Powtoon to create a'Blog Sign-Up' video. This sits on their homepage where they invite new users to sign up for their blog. Extra tip: notice how they put a button directly under their Powtoon. This helps your viewer take action right after watching your video!
9. Training Guide
The famous Tapp Brothers used Powtoon for their highest converting'Training Guide' video (that's close to 1 Million views).
10. Thank You Page Video
Chet Holmes is famous for doubling the sales for Charlie Munger, year after year after year. His consulting firm now uses Powtoon as a'Thank You Page' video to explain the'Chet Holmes Method'. Which is a great strategy you should try out. After someone signs up for your newsletter or blog, send them to a'Thank You Page' with a Powtoon explaining YOUR methods.
11. Event Promo
Here's a Powtoon used to promote Kevin Hart's upcoming tour. This video leverages the'Mini-Me' effect, maps and airplanes, various soundtracks and dynamic text to create an awesome promo video.
We started with a simple mission to help you give instantly awesome presentations and videos. And now? Now ​ we're serving more than half of the Fortune 500 and millions of small business owners around the world. As you saw just now – from executive consulting firms to real estate to IT to Parkour to Kevin Hart to Paulo Coelho to Ryan Deiss to Accounting Software.
So go ahead and unleash your creative genius in your marketing for your business. Let me know in the comments below now:
How Are YOU Going To Use Powtoon For YOUR Business Today?
The following two tabs change content below.
Ilya Spitalnik
Powtoon's Chief Renegade Scientist
Latest posts by Ilya Spitalnik (see all)