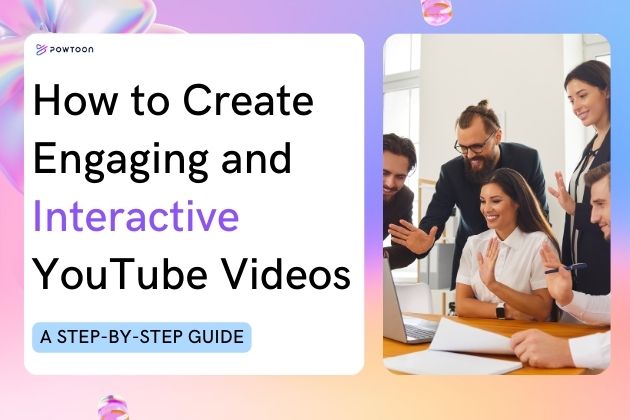 How to Create Engaging and Interactive YouTube Videos: A Step-by-Step Guide
Read Time:
4
minutes
Interactive videos have emerged as a powerful tool for engaging audiences. As viewership on YouTube continues to soar, harnessing the potential of interactive videos becomes increasingly essential. YouTube remains the premier social media platform for sharing video content. As of 2022, statistics indicate that approximately 2.56 billion people throughout the world access YouTube and watch videos on the platform. Additionally, every minute, 500 hours of content is uploaded to YouTube.
On the one hand, if you're marketing a business or brand, YouTube's large user base means that posting content on the platform theoretically provides you with the opportunity to cast a wide net and reach leads you might never have reached before. On the other hand, because tens of thousands of hours of content are uploaded to YouTube every hour of the day, competing for attention may prove challenging.
There are various ways you can get more eyes on your videos. Our guide on the factors that influence whether a video goes viral may help you come up with ideas for content that viewers will find naturally.
One effective way to boost engagement with your videos is to add a degree of interactivity to them. A video is more likely to capture and keep the attention of a social media user if the video allows them to "participate" in the content to some degree.
Not sure how to create interactive YouTube videos? Don't worry. The following guide will help you begin generating ideas that could help you improve the return on investment of your YouTube and social media video marketing efforts.
What Is An Interactive Video?
An interactive video is simply a piece of video content that viewers can actively engage with in some capacity while the video is playing. For example, a video may include links that viewers can follow to enrich the material being presented. Or, a video may pause so that viewers have the chance to answer quiz questions before moving on to the next section of the video.
Those are just two examples. The specific ways a piece of video content may become interactive can vary depending on the nature of the content.
Types of Interactive Videos
Interactive videos can take many forms. The following are just a few examples:
Assessments: Research has shown that video can be a very powerful tool in an educational setting. Animated video, in particular, has been determined to help educators explain potentially complex topics or concepts with greater clarity than they otherwise could. To determine exactly how effective an educational video is, you might include quizzes or tests in the video itself. Doing so allows you to create interactive video content while also measuring the degree to which said content serves its intended purpose.
Choose the next step: "Choose Your Own Adventure" books appeal to young readers who might otherwise struggle to pay attention to novels they're reading for a simple reason: they make the experience of reading one in which a reader plays an active role. A YouTube video could do the same. Instead of creating one long video on a topic, you can create several short videos. At the end of every video, a viewer can make a choice to watch one of several potential videos in the sequence next. For example, maybe you're promoting your brand through a sequence of videos that demonstrate how to use your products. At the end of every short video in the sequence, the viewer can choose the next video based on what they assume to be the next step in the process of using a particular tool or item. The video they choose can then illustrate what would happen if they were to use the product in this way in real life.
Hotspots: Hotspots are clickable links or features within videos that viewers can click on to access other pieces of relevant content. For example, during a product demonstration video, you could include hotspots that direct viewers to pages where they can buy the products being demonstrated.
This isn't an exhaustive list. As you experiment and learn more about how to create interactive YouTube videos, you may come up with your own ideas for interactive content.
What are the Benefits of Interactive Videos?
The benefits of interactive YouTube videos aren't merely theoretical. Research shows that interactive videos yield higher click-through rates than other types of video content on YouTube.
When viewers interact with your videos, you can also gather more data about user habits and behaviors. You may analyze this data to learn more about your customer base, gauge the effectiveness of certain video marketing strategies, and generally refine your approach to developing YouTube content.
How Can You Create An Interactive Video For Youtube
Again, the specifics of the video creation process may vary somewhat depending on the exact type of interactive YouTube video you're creating. Generally, though, the process involves these steps:
Determine what type of interactive video you wish to generate
Make a list of interactive features your videos may include (such as Hotspots) and research how to include those specific features in a video.
Outline all the content you will need to film or animate to ensure maximum interactivity.
Write your scripts, generate storyboards, cast roles, and complete other such pre-production steps.
Film your video content
Edit and finalize your video
Upload your video content to your YouTube account
In the Video Manager page of your YouTube account, find the video you want to edit, click on the downward arrow next to the Edit button, and choose Annotations from the drop-down menu.
Now, you can add annotations in the form of links, questions, and other such content that may result in a more interactive experience for a viewer.
As always, it's also very important to monitor the performance of your videos. As this guide has hopefully demonstrated, generating interactive video content is an effective way to get noticed on a busy platform. You'll further maximize engagement with your videos if you consistently analyze engagement data and modify your approach accordingly.
(Tip: For more information on creating video content, check our guide on the stages of video production.)
Easily Create Interactive Videos With Powtoon
Even if you now feel you know how to create interactive YouTube videos, you might still worry you don't have the experience (or budget) necessary to generate impressive and dynamic video content in the first place.
That's where Powtoon comes in. Powtoon is an online video maker tool that makes the process of generating video content easy and affordable for everyone, from beginners to seasoned pros. Sign up today to get started!

The following two tabs change content below.
Hanna is Powtoon's Content Marketing Strategist. She joined Powtoon as a copywriter in 2019, after graduating from university with a specialized degree in marketing and business. She continues to inspire people to create incredible video content with blog posts, videos, guides, and more. Hanna's passions include reading, singing, and caring for animals (#proudvegan). Nothing makes her happier than waking up to her two black kitties who, contrary to popular belief, are good luck!
Latest posts by Hanna Abitbul (see all)