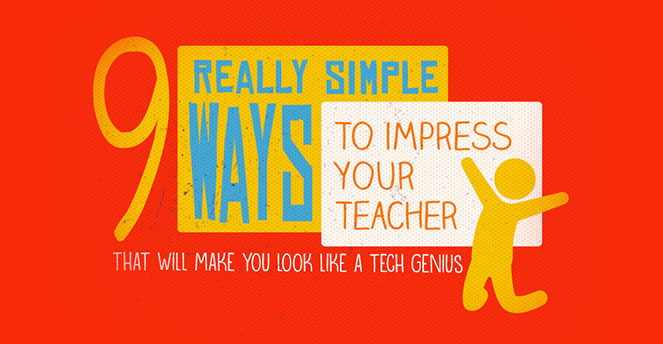 9 Really Simple Ways to Impress Your Teacher (That will Make You Look Like a Tech Genius)??
Read Time:
6
minutes
The results are in! After sending a survey to hundreds of teachers, asking them, "what is the most awesome thing about being a teacher and coming to class every day?" The answer is finally here!
Are you ready for this…
According to the ED Pulse Poll, teachers said: "the best part is the sparkle in their [students] eyes."
Huh? Your teacher loves to see your eyeballs sparkle!?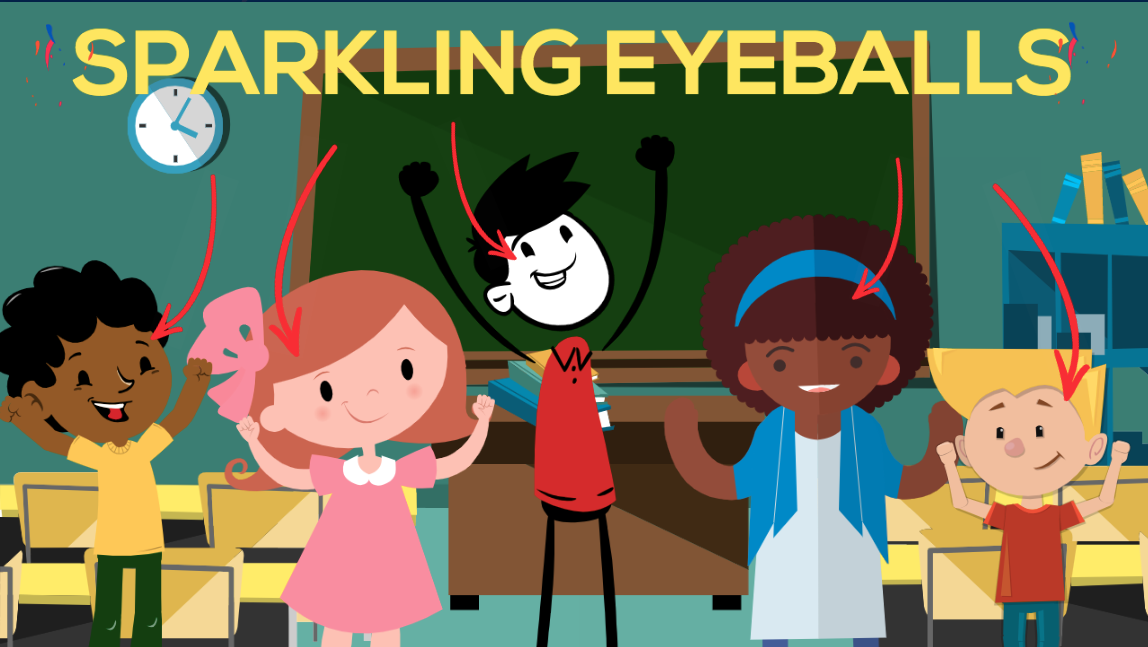 Not exactly… What this really means is that your teachers love that moment when you've suddenly understood a concept and your face lights up. They love when you're excited about learning; they want to see you raise your hand, stand up and speak with passion, (especially when it's a subject they've taught you) because it makes them feel proud!
How to Get A's and WOW Your Teacher
Teachers value creativity, so they are impressed by students who think outside the box, especially when it involves new apps and technologies in the classroom. Creative students (the cool ones who take risks), not only help themselves get better grades, but they actually help their teachers look like rockstars. Because awesome teachers, in every subject (from math to gym class) learn from their students… and incorporate what they learn into their future lessons.
Check out this killer list of 9 easy ways you can use technology in the class… that will impress your teachers and surprise all your classmates!
9. Digital Book Report
Ever since the first book was written, teachers have assigned book reports to students. This means that Fred Flintstone, Pharaoh, and even your grandparents had to hand in book reports. But the format has changed over the years. Flintstone used slabs of stone, Pharaoh used hieroglyphics on papyrus and your grandparents actually used typewriters to create their book reports. Nothing much has changed over the last few thousand years; book reports all involved inscribing words on a surface and having your teacher read it. Snore…how BORING! It's your turn to take the classic book report to the next level, you can create an animated, DIGITAL BOOK REPORT. Powtoon's Book Report Template guides you, step by step, on how to build a clever and entertaining book report movie! Your teacher will not only love this idea, and love watching a video for a change, but I bet she'll assign it as a project for the whole class! Check out this book report on "Diary of a Wimpy Kid," created by Zoey:
8. The New Slideshow – Present with Powtoon Slideshow!
Here's a little secret about Powtoon, ANY movie can be turned into a slideshow presentation and any slideshow presentation can be turned into a movie. So, if you have to prepare a presentation for class, just click the button to 'slideshow mode' and you've gone from the standard PowerPoint presentation (which every teacher already expects to see) to a surprising slideshow, full of animation (and even video clips)!

7. The Appreciation Powtoon
It's a common custom for students to give their teachers presents for the holidays or to mark the end of the school year. The most common gifts include candles, scarves, and coffee mugs filled with candy. Although it's the thought that counts, these gifts are boring and unoriginal. What about a new Mercedes or a trip to Hawaii? That's a bit expensive…. and the truth is that there's only one way to show your teacher that you appreciate all her hard work and effort, but the best way to say "Thank You" to a teacher is with an original, unique Appreciation Powtoon! You can use this Five Facts Template and title it "5 Reasons I'm Grateful Mrs.Smith is My Teacher" or "5 Great Lessons I learned from Mrs. Smith". 
6. Science Fair Project…VIDEO!
Picking out a topic for your science fair project is hard enough, but think about the judges and teachers… they have to go from booth to booth, learning about each topic, checking out hypotheses, graphs, and pictures on an oversized piece of cardboard…. SNORE! How much cooler would it be if the judge watched 1 minute and a 30-second introduction video, describing the aim and hypothesis, or perhaps a video outlining the results? Or maybe just have a Powtoon running in the background showing pictures of the entire experiment!? Now that's a student that deserves an award (and a standing ovation). This 'Plant Cell Amusement Park' was created by 3 clever students, who advertised the botany of a plant using a commercial (since then teachers have assigned Commercial Powtoons as projects to their students)! Here's another awesome example, this Powtoon on Color Illusions was created by Marcela, Amie, and Amanda:
5. Turn Your Teacher and Your Class into Cartoons
Everyone loves a good laugh, and believe it or not, that includes your teacher! That's where Mini-me comes into play. Powtoon actually gives you the ability to turn yourself into a cartoon (all you need is a picture)! How shocking would it be to stand up in front of your class and watch a mini version of yourself narrating or presenting your video? Turning yourself into an animated character is very original but it's even more original to turn your teacher into a cartoon! How about cartoonifying your classmates? If you are doing a group project, you can introduce your classmates as cartoons; waving hello or even goodbye at the beginning or end of your presentation. (Check out two Super quick ways to instantly mini-me yourself in under 5 minutes).
4. No Bullies/ No Fire – Classroom Training Videos
Powtoon is being used by many well-recognized companies (like Starbucks and Disney) to train their staff on all sorts of procedures (because Powtoon makes listening to instructions much more fun)! Why don't you suggest making a class 'Fire Safety' video like River Hall Elementary School (shown below)? You can do something totally different and add a twist to your next project. Emma chose role model Martin Luther King to teach her classmates how to be kind to one another and stop school bullying.
3. Lyric Video/Music Video
Everyone loves music! Create a lyric video for your next project/class assignment! All you have to do is find the instrumental version of your song (often found on Youtube), write down your own lyrics, record yourself on Audacity (a free sound editing program) and upload it to Powtoon. Once the song has been uploaded, simply create your Powtoon; add your choice of background, characters, and words. Voila, you have just produced your own music video. An easier and quicker option is to upload an original song you or your teacher love and add your animated characters and lyrics. Here's an example of an animated Lyric video of Uptown Funk by Bruno Mars.
2. From Research Paper to Movie!
Research Papers can be long tedious and boring. You have to take a topic, read a whole lot about and then type it word by word into a doc, It's way more fun to make a Powtoon about it, and it's way more entertaining for your teacher to watch a movie than grade her 35th research paper! But what if it has to be presented and handed in as a typed-out 600-word assignment, and creating a Powtoon is not an option…well, you should SURPRISE your teacher with a Powtoon anyway. Write your paper as your teacher assigned, And ADD a quick 30- 60 second Powtoon about the topic of your research, including the URL at the end of the paper, for example, If you have to write a history paper about the English Civil War, you can create a complementary Powtoon, like this Powtoon, made by Erin, Larryn, Tyler and Gabby.
Make a Soldier Smile (and also your teacher)
Memorial Day is a unique national holiday because its purpose is to both mourn – and honor – the many fallen heroes who have fought for our country, as well as instill a deep appreciation for the freedoms we enjoy today. Teachers often have a tough time figuring out how to teach such an important holiday and what project to assign their students… So, help your Teacher out and show her these Memorial Day templates! She will be totally relieved that she won't have to come up with a lesson on her own… and impressed by your creativity! Powtoon created these animated video messages that students can customize alone, or together with their teacher as a class assignment to send to veterans and soldiers. It's FREE, it's personal, it uses technology that can reach a soldier in under 5 minutes — and it will help our troops feel appreciated…and smile.
By the way, ALL these STUDENT MADE – POWTOON IDEAS have actually been turned into real classroom assignments... and used by teachers all over the world! I'm totally serious, teachers were inspired by their students and copied the Powtoons that their students created in order to deliver a more awesome classroom lesson!
Try using one (or all) of these 9 really simple ways to impress your teacher (that will make you look like a tech genius) and let us know how it goes! Still need inspiration? Use one of our video templates! What is one unique way you've seen technology used in your class?
The following two tabs change content below.
Nirel Matsil
Howdy! I'm not actually a cowboy but I'm Super excited to be here, honing in my science background plus marketing experience to help show the world how anything you wish, dream or say, can be made more awesome with Powtoon!
Latest posts by Nirel Matsil (see all)