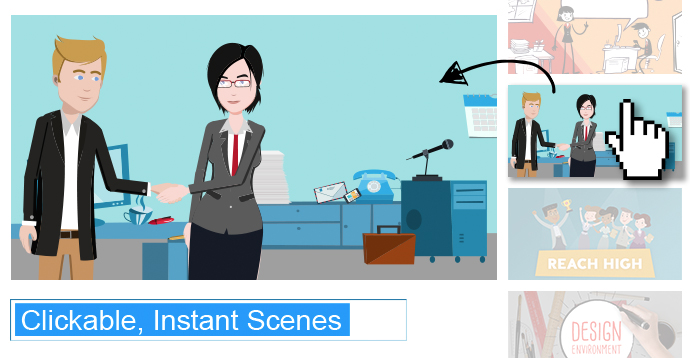 INTRODUCING: CLICKABLE, INSTANT SCENES – Quick Animated Video
Read Time:
< 1
minute
Hey, Ari from Powtoon here, with a rocking awesome update you're going to love:
You can now make a Powtoon in just 5 minutes!
Remember those days when a professional animated video cost at least $2,000 for a 30 second clip that took a month to make? And all you wanted was a quick animated video to get your message across? Now you can get it done in 5 minutes, for free – with THIS:
INTRODUCING: CLICKABLE, INSTANT SCENES
https://powtoon.wistia.com/medias/lx1srthkls
We call them layouts, you can call them your new best friend. You're going to love this new feature to make your quick animated video.
Here's how it works:
Go to your side panel
Click layouts
Choose the style you feel works best for you
Click the layout you want
…and BOOM! It's now part of your Powtoon! Ready made scenes from all of our templates, available for YOU…instantly. Which means you can now just drag and drop a scene that gets your message across best, and voila! You have a Powtoon.
Everything just changed my friend – welcome to the new world of awesomeness. Go ahead and start crushing it by making a quick Powtoon with LAYOUTS.
Take the Quick Animated Video Powtoon Challenge:
Go create a Powtoon in 5 minutes with our new layouts now.
You can do this, we believe in you, we love you!
Ari
The following two tabs change content below.
Ari Sherbill
VP Business Development @Powtoon. Ari's known as the "High Energy Guy" who currently advises Fortune 500 companies, Hollywood Studios and over 5,000 executives and business owners every month how to increase their leads, engagement and sales with Powtoon. He's spoken on stage with MGM, the Sands Hotel, 3M and Oracle. NASA referred to his strategies as "fresh and intriguing". Learn how to grow your sales and impact by following me on twitter: @AriSherbill
Latest posts by Ari Sherbill (see all)